The current Wilderness course that the BSA accepts is Wilderness and Remote First Aid. This class has "current Adult CPR/AED certification from a nationally recognized training organization" as a perquisite. The new class also has a hard minimum age requirement of "14 by the last scheduled class session". The old program which is no longer offered and is no longer accepted by the BSA, Wilderness First Aid Basics, had no perquisites... just very strong "recommendations".The NBO Scout Training Team is offering only the new class which has both the Adult CPR and age requirements as perquisites.
Wilderness and Remote First Aid... for Scouts and Scouters!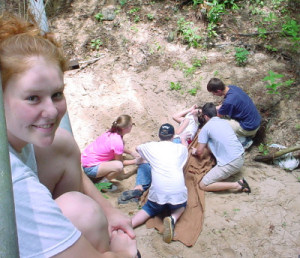 The American Red Cross working with the BSA and other high adventure oriented youth organizations has developed a new advanced first aid program called Wilderness and Remote First Aid. The NBO Scout Training team offers WRFA training several times each year at BSA Camp Strake and other locations in the Houston area. Our program is especially designed for mature, Scouts, Venture age teenagers and their leaders that plan activities where professional medical response may be delayed. We use age appropriate techniques to deliver this class to our target teenage audience. Leaders are very welcome and are encouraged to take this class with their youth members.
Wilderness and Remote First Aid replaces Wilderness First Aid Basics which was the program previously recommended by the BSA. The new WRFA program meets the current training requirements for Scout groups planning treks to Philmont Scout Ranch. Philmont requires at least one participant, youth or adult, to have current WRFA training. The Philmont Scout Ranch, many Council and all BSA high adventure bases encourage ALL participants to have this level of training. Taking this class along with the youth members of your planned trek is an excellent way to prepare. The class provides life-long skills designed to deal with a medical emergency when professional help is delayed…. Skills that may be used to save the life of a Scout, a good friend, a family member or perhaps a total stranger. Adult leaders can be confident that their youth trained trek members are well prepared to take care of them in an emergency.
Wilderness and Remote First Aid is a hybrid course that builds on skills and knowledge offered in basic community level classes along with an introduction to some of the more advanced techniques presented in programs like BSA Lifeguard, American Red Cross Lifeguarding and First Responder level classes. The skills presented are more or less the same skills taught in a basic level class with additional instruction on how to improvise and adapt them to a delayed care environment. The knowledge presented is tailored to how to help a victim when professional care will be delayed. This includes how to complete a scene size-up, recognize and handle immediate life threatening conditions, techniques to conduct an initial and ongoing patient assessment, techniques to deal with potential head, neck and back injuries and methods to move or transport an injured victim when necessary. Participants are taught to see an emergency situation through the eyes of a professional first responder.
The NBO Scout Training Team offers WRFA classes at several wilderness venues in the Houston Texas area. The class is 16-20 hours of instruction and includes presentations, videos, demonstrations, patient assessment practice on "real" victims, and realistic, fully moulaged multi-casualty scenarios. The multi-causality scenarios are the highlight of the class. The scenarios require the proper use of the skills and concepts taught in the class and require participants to work together as a team.
The WRFA class is open to mature teenagers, fourteen and older and adult leaders. Youth and adult participants should be comfortable with basic first aid skills. Current Adult CPR/AED certification is a perquisite for this class and current basic level certification in First Aid is recommended. The NBO Scout Training team offers basic level CPR/AED and First Aid classes designed for Scouts and Scouters several time a year at BSA Camp Strake and other locations in the Houston area.
Email us for more information on this very special class...
Take Wilderness and Remote First Aid with your Patrol!...
"WRFA" is a lot of hard work... But it is really FUN TOO!
Download a great Wilderness First Aid article from the March-April 2002 issue of Scouting Magazine WFA Article
Questions?... just email us! WRFA training@scoutcpr.org